Food & Lycra Rotterdam 10km Race Report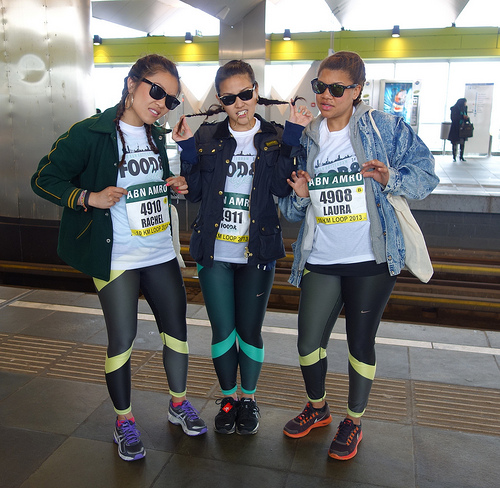 This post has been a long time coming! It's been two weeks since our first official (we got race number bibs YAY!) race as Food and Lycra sisters, obviously we have to document it...even if it is a bit late. We have been reading and getting emotional over all the great and triumphant marathon race day reports shared with us for the site, guest posts which we think more than deserves to be prioritised before our own. Now, it is is our turn to share our story! Compared to the victorious and touching stories that came from our brothers who ran the full marathon in Rotterdam and London, it almost makes our 10k race sound like a fun run LOL. But, hey, one step at a time eh? Watch this space...this time next year...Ultra Marathon runners ya dun kno (JOKE)!
We started the Rotterdam 10k loop race together, and ended the race together - with only seconds apart on our official race times. We thought it would be great to share our own personal perspective of the race, because even if you run together and support each other, what's going through our heads whilst we are running will be totally different.
For all the ladies running their first race with Nike's We Own The Night on May 18th, this might be a good read for you! Know that whatever thoughts are running through your head - the feeling of wanting to give up, the fear of running your first race - is perfectly normal! Don't give up, and make sure you cross the finish line, because like we always say "Your Legs Will Take You Far. Your Mind Will Take You Further." We aren't all built to endure 26.2 miles of running, taking part and and completing a 10k race is a massive achievement in itself.
Here are our race day reports, the girls kept it short and sweet...I ramble on. "We Run To Eat" in full effect (oh LORD)...
- - - - - -
Rachel's Rotterdam 10k
Along with 9000 other people, we ran 10k across the centre of Rotterdam - my first race and the first Food and Lycra race.
I entered the race feeling very optimistic that this would be like every other 10k run I've done. I've been running 10k+ distanced for the last 4 months, improving with every run - from not being able to run 1km this time last year to now being able to endure 6 miles and feel good afterwards. 52mins is my best time, surely I could beat this on raceday? Everyone kept telling me I would be faster on race day, putting it in my brain to actually aim for a good time...sub 50mins?
Raceday morning came and I suddenly had a change of heart. I don't know why, but I just remember thinking I couldn't be bothered with time, let me just try and complete this the best I can, as it is ONLY a 10k. Only a 10k, it should have been easy, but it wasn't! Easily the hardest 10k run more like!
As I joined all the other 10k runners walking up to the start line side by side with my sisters looking gully as hell: braids in, shades on, leggings matching (hey, first-race impressions and all of that!), we were all feeling happy and excited to run Rotterdam. But, I could see Laura's mind was elsewhere; worrying about her boothang's first marathon, and Kim too; popping paracetamols to make sure she didn't suffer so much with her shin splints. I, on the other hand, was almost in tears just walking up to the start line because it was my first race and was pooping my pants.
As usual we were a little late, and missed the start of our group's run. The mixture of us being the last from our group to start, and having the crowds full attention as it was basically only us running now, made us start running faster than we should have. Error number 1. We only stayed at that pace for about a mile but my body felt the full effect of it.
The first 3k was the most difficult part of that run - I've never felt so much pain in my lower legs before, my ankles were being put under a lot of pressure, straining as I tried to keep running. My breathing was uneven, my chest felt heavy. This has never happened to me before. I'm sure there are lots of different things that factored into that: Did we eat too much nonsense on the run up to the race? Did we not rest enough? Did we start off too fast? Were my braids too tight?!
I didn't tell the girls at the time but I was so close to just giving up and being the type of person that I am, I was super pissed off at my body and mind for wanting and feeling like this.
The 7km (to go) marker came up and I just remembered thinking "what the actual fuck, how have I only ran 3k!! Fuck this shit! I'm never doing any sort of race again!!" I swear, I was cursing EVERYTHING - the colour of the roads, the houses we ran past, the marker signs that was basically rubbing it in my face that I've only ran 3k and felt like utter crap. I was literally imagining karate chopping and beating people up in my head - that's how mad I was!
After about 5k my legs started to feel better and my mind was off 'ultimate swearing' mode as I got used to the pace but LAWD was it HOT. My face felt like it was on fire, and I'm sure my two t-shirts didn't help either. At around this point, Kim was having issues with her shins and her breathing was getting heavier than normal. Way heavier - to the point of getting both me and Laura quite worried as we have never heard her like this before. We slowed our pace right down for her to get her breath back and she kept telling us to keep on running because she didn't want us to slow down for her - AS IF we would just leave her there. We were all feeling pretty crappy, and was more than happy to slow down lol!
The rest of the journey was pretty much a blur as we tried to avoid thinking about how long left until the finish. We kept our minds off things by keeping the conversations flowing and with me making lame jokes about store names that sounded rude in English (something to do with dicks) which no one found funny (sighs...bad timing?!).
The Rotterdam crowds were amazing (bar the one person who had to say something in "Chinese") and made me look forward to finishing so we could catch Jeroen and Akeem at 30k into their Marathon!
Seeing the last 200m sign was such a relief! We all had enough energy to have a flying finish for the last 100m, even Kim pushed through her shin splints for that finish! As per her tradition, Laura recorded the final part of the run...and also the part where my excitable ass pushed her. I'M SORRY LOL.
We finished the race in 1 hour 10 seconds glistening (sweating) and gangster bopping (limping). BOOM. On to the next one, We Own The Night 10k run - Food & Lycra are coming stronger and faster!
- - - - -
Kim's Rotterdam 10k
This was my first 10km race....
I did a half marathon over a month ago so I thought this would be casual. The sun was shining on our faces and there were nothing but good vibes with my F&L sisters. So why was this one of the hardest 10kms ever?
My shins gave in, I was dying from the heat, my breathing got heavy - it all went wrong somehow. Going in with the sprints at track for the first time last week was probably a bad idea before this.
Lessons learnt: Take it easy the whole week before race day, try not to over indulge in yummy but guilty foods too much before your race (I probably won't stick to this) and don't take a load of Paracetamol to numb shin splint pain before a race - just don't run at all!
Albeit I'm so happy I took this trip to Rotterdam - to see Jeroen and Akeem run the Rotterdam Marathon was something special. Seeing those thousands of people run was amazing, just knowing how much work they had all put in to make it to this day was something else. I've grown a new appreciation for cheering on long distance runners this year, it's so much fun, but also emotional. Hearing Jeroen and Akeem's story of how they helped each other through the race was something else (holding back the thug tears as I write), you can read for yourself here.
Overall it was so much fun, I can't wait for our next 10km race, We Own The Night with Elle and Nike!
- - - - -
Laura's Rotterdam 10k
Rotterdam 10km loop was my first race with my food and lycra sisters!
This atmosphere of the race was warm and welcoming, but why on earth was the the actual run so physically painfull! I blame the overdose of food prior to the race.
We started off late (as always) and were the last one to depart from our sub 50min group. So we had to rush...and we kept on rushing around 8.50min/mile on the first 5km...too fast....way too fast compared to our usual pace! If our bodies were physically at 100% it wouldn't have been a problem as we normally run this distance and we could have pushed a little on the speed. But we weren't at our best fore: Kim suffers from shin splints, I do too occasionally (i think i'm just to heavy for my legs ahah...joking) and Rachel discovered some pains too! OUR LEFT LEG!!!! All 3 of us! WTF. Are we that physically connected LOL?!
Half way through the run, Kim started to feel the pain! We normally suffer in silence but this was too much for her. It broke my heart to see her like this. She's like a sibbling so if she suffers, I suffer too. We slowed down with her and all ended up admitting that we were in pain. She kept telling us to carry on? Was she crazy? Was she in some sort of heat and paracetamol fuelled haze? I'm leaving NO ONE behind!
While slowing down we had time to debate about the fact that time is minor when you run with your friends/sisters we just needed to finish together. Just how we started.
As I said in one of my previous post i'm not a fast runner. I just enjoy running and even more when I'm surrounded by people I love!
I'd like to thank my dutch family (i love you all) and all the Rotterdam Cheer Dem Crew who were calling our names and encouraging us - putting a smile on my face despite the pain.
I tend to forget that my name is written on my bib. When people called my name I think "who is this person? Do i know him/her?" Then i realised that they read my name...what a fool!
Before every race, eat accordingly lol it matters! No hot dogs, chips or creamy pastries!