London Marathon Training - A Swift Update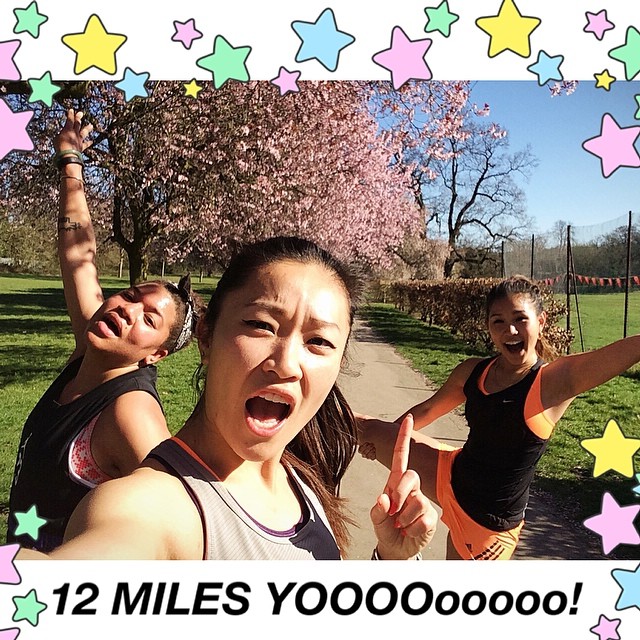 Training for something like London marathon is a constant battle of time, commitment, injuries and niggly bits in your legs.
Once you get over the huddle of having to casually run 13+ miles on a weekend, a distance I used to throw tantrums about on race day, you get the next huddle of being unable to run for a week or so because your shin feels a bit dodgy, or your knee doesn't feel right. You make the silly mistake of running on said dodgy knees and/or shins which means adding another week of being unable to run to that list.
So, the week it feels ok, you start again. Building it up mile by mile. Your leg forgets the miles you put in as quickly as it remembers it, I SWEAR.
You live by a four month calendar filled with four runs a week, basically saying bye to your weekends, oh, and your lunch times.
Now let's talk rest days. They are amazing, but boy do you want to rest. A day to do anything in the world and all I want to do is lounge around on my sofa. And do nothing. What a life eh?
But it's not all doom & gloom, I promise.
You start to enjoy getting out the office at midday to get those speedy, short miles in. Working in central/city with all those suits on lunch makes you run faster so you can avoid them - do you hear that? That's records being broken *BOOMMM*! You get to run London during the day and enjoy the full beauty of the city without weaving in and out of slow walking tourists along the Embankment, around St. Paul's and across all those wonderful bridges.
You get to eat shed loads of food and not feel so bad, I know what's new eh? But, honestly food taste 100x better! Yes, my diet needs a bit of work, but after all those miles I will basically eat everything within my sight. Maybe I should just surround myself with veggies?
Your gag-reflex and tolerance to eating disgusting things improve. A lot. Which means if you are ever stuck in jungle you'll be able to eat anything! Testing energy gels on long runs is probably worse than smelling a sweaty runners pits. They gunge-y consistency is so disgusting, no matter how fancy the flavours are (rhubarb and custard anyone?!). Discovering a few special ones out there which taste good, and doesn't have a weird texture or give you stomach cramps, is a massive hallelujah moment - my personal favourites are TORQ and SIS at the moment. Shot Blocs are also amazing, basically like eating gummy sweets!
Those long weekend runs become enjoyable. The bonus of having great weather & amazing friends who are also training along for the ride makes it so much more worthwhile. Plenty of #runselfie moments eh?
And lastly, the sense of achievement after completing a long training run. The greatest feeling of them all.
Bring on taper week. Bring on 26.2.