Marathon tunes to get you running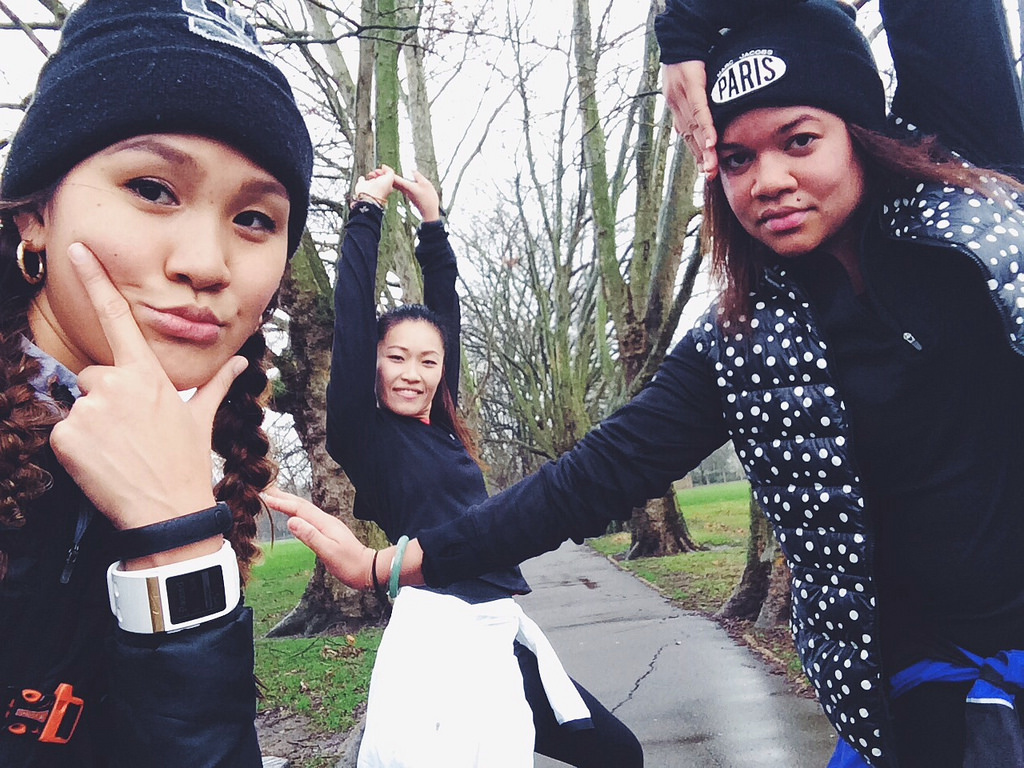 There is nothing better than running to your favorite songs. And when a race gets really hard your playlist can really help get you through.
This Sunday, April 13th 2014, we are running London Marathon. 26.2 miles on hometurf. Nerves, stomach doing back flips, excitement- can't even begin to describe what we're going through. This time last year we thought we were mad for doing half marathons and now we're a couple days away from  a marathon... gulp!
If you've ever seen us at a party you will know how the dance floor gets dealt with and how much we love our music. So we break it down for you guys and give you our top 5 songs we're looking forward to hearing to on our runs.
First up: Seraphizm
I grew up in a very multi cultural environnement. Born and bred in Paris. Originally from an african background, I've been brought up in an Algerian family, my best friend back then was from Colombia... So you can imagine the cultural mix. I love everything that has a good beat and that I can dance on to.
I tend to be looked at weirdly because of my very ecclectic taste.
Here's what will make me dance in my head and give me that little boost. I planned 6 hours of music on my Ipod.
I might loose some street credit by giving away this list ahah but I don't care as long as it helps me finish the race...that my jaaaam!!!!
Next up: SuperNoodleRach
I am one of the very few people who enjoys running without music. I think this has something to do with always running with other people, and having a little chinwag whilst on the move. Oh, and, lack of free memory on my phone. Stupid iPhone memory and over 5000 pictures (don't judge me!) mean music playlists are a total no, no!
I also REALLY enjoy listening to the noises around me (cars included) and hearing the cheers on race day. That's what usually spurs me on. But, running 26.2 miles is a whole different ball game. 13.1 miles music-less is fine, but can I really cope with double the distance without any songs to get my legs moving and running further than ever before?
I'm going to try and collate a bunch of songs that my closest friends would recommend for me for marathon day, but here are a few of my must have tracks!
Chromeo – Bonified Lovin: A favorite from Chromeo to get me disco dancing on the race route.
La Vida Es Un Carnaval – Celia Crux: A song to evoke happy memories when I am feeling like DEATH on the race route.
Little bit of luck – DJ Luck MC Neat: A classic garage banger because I really, really need a little bit of luck…to make it thru the run.
Drake – hold on, we're coming home: I want my playlist to end on this song, because, like Drake, I'm coming home.
Shabba – Asap Ferg: Who doesn't love a bit of sha-shabba ranks to get you moving.
And finally, me, Kimmayco
I love running to music. I often listen to songs and think 'omg how good would this song be to run to?'.
I grew up listening to the sounds of Jungle and HipHop blasting out of my older brother's room. From primary school it was old school garage and then through my secondary school years it was all about locking into DeJa Vu, Rinse FM and Mystic FM to catch Nasty Crew, Pay As U Go, Heartless Crew, Roll Deep and Ruff Sqwad. To cut it short I LOVE RUNNING TO GRIME! There's nothing like running through East London, where I was born and bred, listening to home grown MCs spitting gritty lyrics that get the pace up.
I can't imagine running to grime for 26.2 miles however- so here a couple of the grime tracks I'm looking forward to hearing as well as some non grime tunes.
Ruff Sqwad- Xtra. As soon as the chorus get to "East London where the mandem are bup" woiii the sense of pride takes over.
D Double E - Frontline. My favourite MC ever. If you've ever seen a crowd go crazy when D double spits you'll understand how that can be converted into pace in your mileage.
Lorna - Papi Chulo. VIBEEEEES- this song makes me happy and want to dance hence also puts a little swing
S.I.A - Little Man. One of the baitest but one of the most loved old skool garage songs.
Bobby Brown - Two Can Play That Game. This got me going during Paris half marathon, my first half marathon where there were moments I miserably stomped through miles. This one cheered me up and reminds of that moment every time.
What are your favorite running songs? Do you have any power tracks that give your pace that extra boost you need?